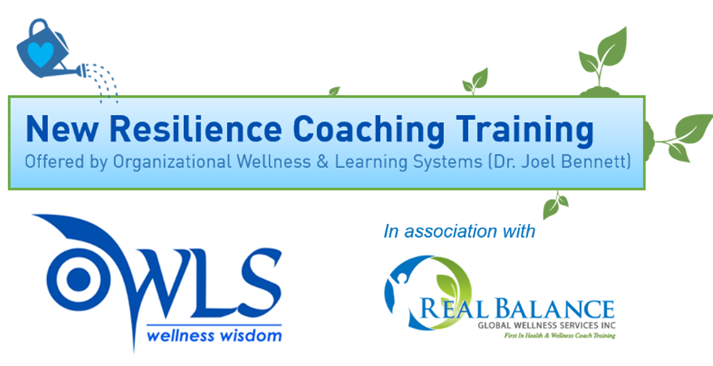 Resilience to Thriving Coach and Consultant ("Coachsultant") Certificate
Class guide Dr. Joel Bennett

This email address is being protected from spambots. You need JavaScript enabled to view it.
BASIC RESILIENCE TO THRIVING COACH TRAINING
This basic resiliency course is being offered on February 11th, 18th, 25th, and March 4th and 11th.

This certificate training is for those professionals within either a human resource, wellness, health, coaching related profession to help them learn about and acquire skills and tools for assisting individuals and organizations with enhancing their resilience and thriving capacity. There are two tracks for this certificate; both basic and advanced.
Objectives (as a result of this training, participants will be able to…)
Identify different levels of resilient functioning (from adapting to thriving) and mind-body (neurological) functions that support resilience
Identify how resilience operates across different organizational levels (individual, team, and organizational)
Cite research to support the above distinctions
Implement a basic cognitive-behavioral practice for working through stress and applying a positive perspective
Identify and use different tools to support individuals on their path toward resilience
Identify and use assessments to help organizations plan and evaluate a resilience initiative
FOUR 90 Minute Sessions-meets every 2 weeks
SESSION 1: INTRODUCTION TO RESILIENCE
Definitions
Levels
Key Topics: ACEs, Burn-out, Trauma, Work Stress
Brain and Neuroplasticity
Tools and Exercises
SESSION 2: INDIVIDUAL, TEAM, AND ORGANIZATIONAL RESILIENCE
Coaching for Individual Resilience
Training for Team Resilience
Consulting for Organizational Resilience
Alignment with Wellness Coaching Practice
Alignment with Human Resource Practice
Tools and Exercises
SESSION 3: ENGAGING OTHERS AND PRACTICE RESILIENCE
Your Resilience Story
Selecting the Right Tool
Evaluation/Monitoring
Action Planning
Tools and Exercises
SESSION 4: THE PERSONAL JOURNEY; the COMMUNITY OF PRACTICE
Sharing Key Tools and Insights (2-minute talk)

What you learned
How can you apply
Key personal goals
Key professional goals

Final appreciations
[1] Coachsultant is a hybrid or part-coach and part-consultant. There is a continuum from direct one-on-one coaching and broader workplace consulting with multiple stakeholders. Combined, the two courses here give participants background in both. They do not, by themselves, represent a full or in-depth training in coaching or consulting. They are in-depth training programs on the topic of worker and workplace resilience and can be approached as a supplement to basic coaching and consulting training.
INCLUDED ARE:
Heart-Centered Leadership (Steinbrecher & Bennett)
Well-Being Champions (Bennett)
Thriving Under Stress (Britt and Jex)
Slides used in the training
Class recordings

Listing on both OWLS and REAL BALANCE website as having become a resilience coach!
Eligibility to receive the Advanced Level Certificate
REQUIREMENTS
Attendance at all four sessions
Meeting twice with a coach buddy from the class to work an exercise
Completing a 15 item pre-and-post survey
final 20-item knowledge quiz
Write a 250-word essay explaining their key insights and take-aways
Completing an MOU and agreement surrounding confidentiality and representation