Professional "Wellness & Health" Coach Path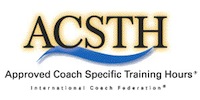 For a Limited time add the Healthy Lifestyle & Chronic Conditions self-paced module to the the ICF Professional Path free of charge and have the ability to also apply to t

he NBHWC to gain their credential.
The ICF Path:
Over 10 - 12 months develop deep, masterful health coaching skills that will enable you to help others along their path to health and wellbeing. Focus your engergies on becoming a masterful health coach while gaining advanced credentialing with the ICF.

Step 1: Wellness Coach & Health Coach Certification - 40 hours - 37 ICF approved coach specific training hours
Step 2: Submit 2 recordings of coaching sessions (actual coach/client sessions or buddy coach sessions). The sessions must be at least 20 minutes and up to 40 minutes in length. These recordings will be review and written feedback provided by a PCC with the ICF. This is required for the ICF credit and an additional fee applies if a student is not on the Professional Path.
Step 3: Group Wellness Coaching - 28 hours *Bonus*
Step 4: Masterful Wellness & Health Coaching: Advanced Skills & Craft - 25 hours ( 20 in class interactive webinar hours and 5 self-paced hours) 28 ICF approved coach specific training hours.
Step 5: Ten hours of Mentor Coaching with 5 Mentor Coach Group sessions and 3 individual sessions (not included in the contact hour requirement)
Bundle the registrations for the classes and the Mentor Coaching Group and experience significant savings. When bundled into the Professional Path the cost is $3,800 (over $800.00 savings). A ten month payment plan is available.

Individual Credentialing with the ICF
If you are interested in pursuing the Professional Wellness & Health Coach Certification or in gaining the ICF ACC accreditation or the Nurse Coach Credential arrange a time to speak with us 866-568-4702 or This email address is being protected from spambots. You need JavaScript enabled to view it.
At least 60 hours of coach-specific training through an ACTP or ACSTH program. Check for your program's approval.
10 hours of Mentor Coaching over a minimum of three months to be documented on your online application. Your Mentor Coach must be an ACC who has completed a full cycle of the credential through renewal, PCC or MCC in good standing.
A minimum of 100 hours (75 paid) of coaching experience with at least eight clients following the start of your coach-specific training. At least 25 of these hours must occur within the 18 months prior to submitting the application for the credential.
Performance evaluation (audio recording and written transcript of a coach session to be uploaded with your application)
Completion of the Coach Knowledge Assessment (CKA).