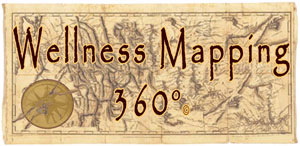 Enroll in a 2009 session of the Wellness Mapping 360 "Wellness Coach" Certificate training early and Save $200!

Wellness Mapping 360© "Wellness Coach" Certification (20 hrs): This course is valuable alone or can be used towards the Advanced Wellness Coach Certification.

Learn wellness concepts and professional coaching competencies that will give you the skills needed to individualize your wellness program or current work. You will learn a systematic coaching process, based on behavioral change psychology, human motivation, solution-oriented therapy, and professional coaching competencies. Learn how to motivate others toward health and wellness with support and accountability. Wellness Mapping 360º© will give you a framework for measurable success. It is a holistic approach grounded in practical application. The Wellness Mapping 360º© Certificate training certifies you to work with clients as a Wellness Mapping 360© Coach. You gain the training, the tools, and the support to develop as a wellness Professional.
2009 Telephonic Training

Wellness Mapping 360© "Wellness Coach" Certificate Training
January 26/09 - 2/25/09 - 6pm - 8pm est (M/W)

January 27/09 - 2/26/09 - 12pm - 2pm est (T/TH)

March 9/09 - 4/8/09 - 7pm - 9pm est (M/W)

April 28/09 - 5/28/09 - 12pm - 2pm est (T/TH)
$545 US is the 2008 training fee - 2009 training fee is $745 - Save $200 by registering now! Registration fee includes course manual, digital tool package, and web-based support. You will need to purchase the book "Wellness Coaching for Lasting Lifestyle Change".

Wellness Mapping 360© II- Health Challenges & Applications
March 2nd, 4th, 9th, 12th, 23rd, 25th - 6pm - 8pm est (M/W)

March 10th, 12th, 24th, 26th, 32st, April 2nd - 12pm - 2pm est (T/TH)

April 20/09 - May 6/09 - 7pm - 9pm est (M/W)

May 2/09 - May 18/09 - 12pm - 2pm est.(T/TH)
$430 USD - Registration fee includes course manual, Group Work Tool Kit, and a Wellness Guide to use with clients.

Mentor Wellness Coach Practicum with Dr. Arloski: 9 Mentor Wellness Coach sessions over 3 months - arranged at your convenience. Prerequisites: Wellness Mapping 360© Part 1 and Part 2 - $300 a month.

Wellness Mapping 360 © "Wellness Coach" Training for Nurses
"This continuing nursing education activity was approved by the American Holistic Nurses Association, an accredited approver by the American Nurses Credentialing Center's Commission on Accreditation"

32 hours of continuing education credit - Enroll in a 2009 session of the Wellness Mapping 360 "Wellness Coach" Certificate training early and save! $925 US with early registration - the 2009 cost will be $1,125.00 (payment plans available)

Nurse Session Options
Session One
1. Wellness Mapping 360© "Wellness Coach" Certificate Training
(20 hours) 1/26/09 - 2/25/09 6pm - 8pm est. (M/W)

2. Wellness Mapping 360© II
Health Challenges & Applications
(12 hours) 3/2,4,9,12,23,25 6pm - 8pm est. (M/W)

Session Two
1. Wellness Mapping 360© "Wellness Coach" Certificate Training
(20 hours) 1/27/09 - 2/26/09 12pm - 2pm est. (T/TH)

2. Wellness Mapping 360© II
Health Challenges & Applications
(12 hours) 3/10,12,24,26,31,and 4/2 12pm - 2pm est. (T/TH)

Session Three
1. Wellness Mapping 360© "Wellness Coach" Certificate Training
(20 hours) 3/9/09 - 4/8/09 - 7pm - 9pm est. (M/W)

2. Wellness Mapping 360© II
Health Challenges & Applications
(12 hours) 4/20/09 - 5/6/09 - 7pm - 9pm est. (M/W)

Registration fee includes two course manuals, a digital tool package, a participant wellness guide, certification, and web based support. - The book "Wellness Coaching for Lasting Lifestyle Change" will need to be purchased by participant.

2009 Trainings On Location

Miramont Lifestyle Center – Fort Collins, Colorado
Fitness Trainers and all Health & Wellness Professionals (ACSM credit applied for)
Dates to be announced!

National Wellness Conference – Stevens Point, WI
July 18 - 23, 2009
University of Wisconsin - Stevens Point


For Information on classes or to register 1-866-568-4702 Toll Free
www.realbalance.com or This email address is being protected from spambots. You need JavaScript enabled to view it.